I love Pinterest. I use it to get great ideas and inspiration. And it's around this time, every year, that the majority of the pins on my feed have something to do with eating healthy, losing weight, or getting fit. I'm getting notifications that friends are creating new boards with words like, "new", "skinny", and "healthy" in their titles, along with other clues as to what their New Year's resolutions are.
I have very similar resolutions. I am, admittedly, a resolution maker. I've heard so many people say they aren't. They've even said they hate New Year's resolutions. And I bet I know why. Probably the same reason I didn't come right out and state mine this year. I stared at my goal list and sighed. I felt overwhelmed and tired of starting over every year. January after January kickstarted with energy and motivation that dwindles steadily until there's no sight of the goals come March. I believe another reason people don't like New Year's resolutions isn't only because they don't achieve the goals they keep setting, but it also seems silly to wait until the beginning of an entirely new year to try to become the person you want to be. So this time I'm doing something different…
A few weeks ago I was already running through my mental New Year's resolutions. One night my ambitions led me to the goal setting page on Lululemon's website titled, "Create Your Ideal Life with Goal Setting". I watched all their videos, filled out their goal writing worksheet, followed their goal setting guidelines, and read their goal related blog posts. I was on my way to completing a pretty hefty list of ambitious long term goals, both physical and professional. It was energizing. But as I kept writing and finally reached my short-term goals, my enthusiasm fizzled, I got overwhelmed, and stopped. It was when I started on the things I want or need to achieve sooner than later that I felt a sensation of exhaustion. I learned something about myself. Although I want these HUGE things for myself, I didn't truly believe, in that moment, that I could get there. The result: When I began the planning portion, I somewhat sabotaged myself… Why? So that I'd be right? Like a self-fulfilling prophecy? No no no no no… NOT acceptable, Lynette.
This week I revisited my goal list to try to figure out why I lost interest. First of all, who's to say that I don't achieve my 10 year goal in five years? Not to mention, some of my art-related goals have to do with circumstances that I may never end up in, which would just make me feel like I failed. So, I took a cleansing breath and switched gears: Instead of setting HUGE goals for 10 years, 5 years, or even 1 year out, I decided to focus on the small successes that will get me where I want to go. This will allow me to gauge a realistic pace and identify how much I can actually accomplish. Then I'll be able to challenge myself with achievable short-term goals. I might find that a goal I originally set to complete in one year was unrealistic, but then again, I may find that I achieve something better even sooner than that. Ultimately, it's nice to dream up goals, but really it's the focus and planning that will cure the poor little Lynette that stopped writing her goals because she just never achieves them.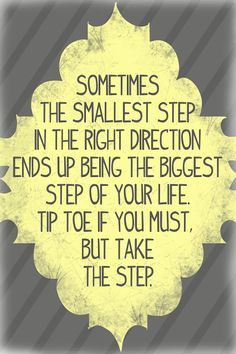 In order to take smaller steps towards the bigger picture, I've committed to a brilliant idea that I'm really excited about. It'll be a lot easier to achieve goals, I'll be able to monitor my progress easier, I'll be able to adjust future goals more freely, and if I don't achieve a goal, I'll be able to efficiently analyze why, think of a new approach, and achieve it the second time around. My plan? I'm going to set new month resolutions. This way, IF I don't achieve my goal, it's only a month loss and not a year, which is a lot easier to dust off and try again. Ultimately, it'll be a lot easier to achieve goals that only take a month instead of a year of commitment. And it's easier to take one day at a time to achieve a weekly goal instead of committing to an entirely new lifestyle beginning on January 1st. The willpower required for New Year's resolutions is outrageous. Which brings me to my January resolution…
Be able to lift a 100 lbs with my willpower muscle by the end of January.
Say what? I know, I know, this sounds vague, which is breaking rule #1 in goal or resolution setting. What can I say? I'm a rule breaker. Joking aside, this goal is my cute way of saying "I'm going to commit to achieving my daily goals for a month in order to gain willpower and practice achieving daily goals." My goals might even be all over the place, that's okay, organization will be another goal, just so long as I am working towards something each day.
I challenge you to take this different approach to making resolutions. What would you like to accomplish this month that will get you closer to an ultimate goal? Breaking that down further, what can you accomplish this week? How about this evening or tomorrow? Let me know what you think!